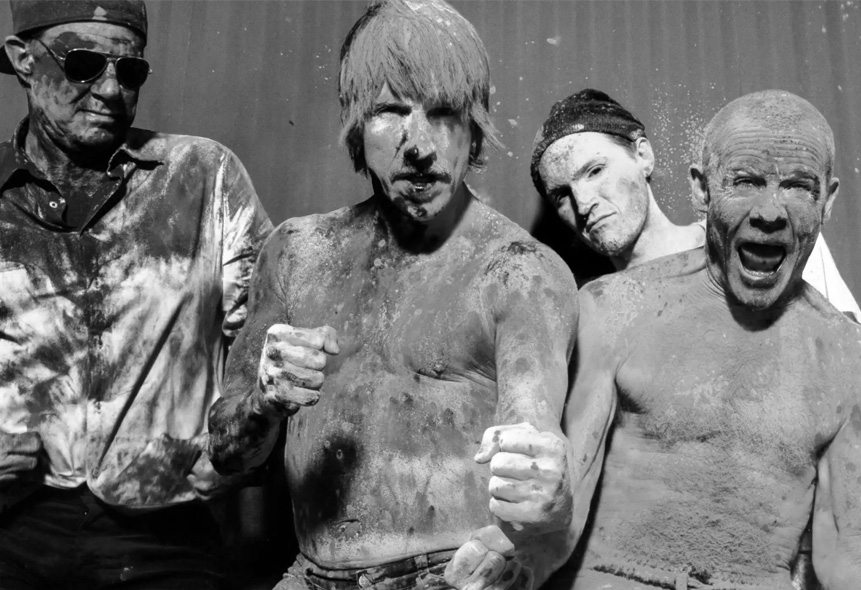 Red Hot Chili Peppers (RHCP) are an American rock band formed in LA in 1983.  Their style,  a synthesis of punk, funk, rock and rap, has led them to become one of the most popular and inventive groups of modern times.
The band consists of vocalist Anthony Kiedis, bassist Michael "Flea" Balzary, drummer Chad Smith & guitarist Josh Klinghoffer
Red Hot Chili Peppers (RHCP) remain one of the best selling bands of all times with over 60 million albums sold worldwide, five of which have been certified multiplatinum in the U.S.  They have been nominated for sixteen Grammy Awards of which they won six.
Their first Top 10 hit was "Under the Bridge" and followed thereafter with "Scar Tissue" (1999) and Dani California (2006)
Their "Classic Albums" include:-  Mothers Milk (1989), Blood Sugar Sex Magik (1991) Californication (1999) , By The Way (2002), Stadium Arcadium (2006)
Famed for their electrifying and energetic live acts, Red Hot Chili Peppers (RHCP) were also formerly known for the gimmick of performing nude but for the strategically placed tube socks – generally saved for encores and no longer a part of their stage shows.
Red Hot Chili's (RHCP) will be on tour in Australia – Feb/Mar 2019 – a full range of official merchandise including new collection items can be purchased via the Red Hot Chili Pepper's online store